As promised, here's the article about my "Outfit Of The Day" in a every daily basis when I'm about to go to college! Plus in this article, I will tell you about the tips & tricks on how to go to school / college (whatever you're going through right now) in style yet very comfortable for the day...
Since many of you have asked me to post about this, finally I'm happy that I can share it to you guys in my blog. First of all, black never fails and it is the ultimate colour I'm really into these days. Like what they always seemed to say "I will stop wearing black when they finally invent a darker colour." Gotta agree to that statement 100%! Anyway, I am wearing the super comfy jumpsuit from Forever 21, it is sleek and stylish with the fine transparent sleeves with pattern on it. Decided to give it some style to the outfit with a leather belt perfectly fit around the waist. Since, I don't really need to carry a lot of things ( I mostly put all of my fashion design stuffs inside the locker we can rent at college ) sometimes I only bring clutch or a small bag, Phillip Lim's pashli are always handy but that day I only bring my favourite croco black purse from
WLS Official
you can check out from Instagram. You can custom made with your initial name on it, very perfect and stylish! Other than that, I really like wearing these platform heels I got from New Look, very comfortable to take a walk around the whole day since that is what we really do in Singapore.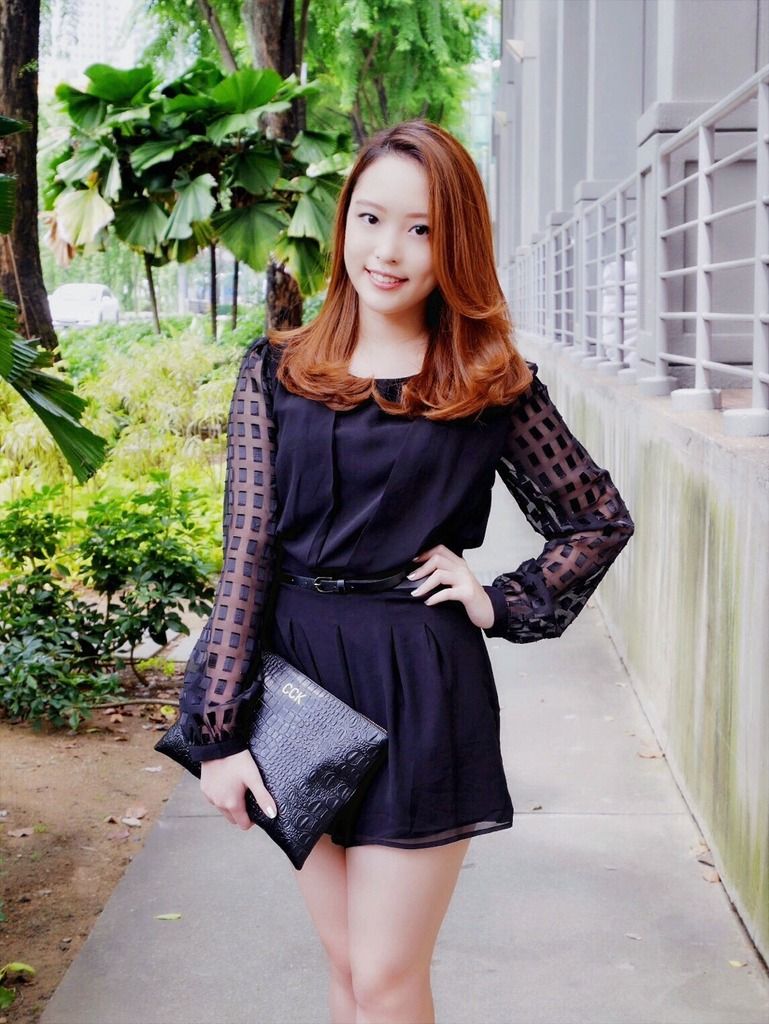 Yes, this pictures are taken nearby my college, Raffles Design of Institute in Singapore. I'm majoring in fashion design for a bachelor degree and my 3rd term of college starts yesterday. Well, it was nice to have 2 weeks term break before that though. The most important thing I would like to suggest you guys is that "comfiness" must be your first priority on what to wear. We walk a lot, move a lot and everything seems practical here in Singapore so it's a nice reason behind it and besides that, why go for intricate and discomfort yourself when you can wear something comfy yet stylish at the same time, right?
Jumpsuit - Forever 21
Platform heels - New Look
Leather clutch - WLS Official